In the last month we have been making updates to small but essential parts of the Label Engine system as well as adding new features for you to use. Instead of blowing you up with several emails and blog posts for each one we thought it would be best to wait until they were all done and make one "big" update.
We also have a surprise for you guys next week, we have been working a lot on improving the site in all aspects, from design to speed and everything in between and we will be ready to unveil "Part 2" of our ambitious project with you guys then.
Anyway, so whats new in Label Engine land?

1) Spotify Stats (BETA)
We have added a new system that will allow you to check Spotify stats on an Album or track by track level, we are beta testing it as there is still certain stuff to sort out as Spotify's analytics tools are still in its early stage and can't handle as many API requests as it would take to fully automate it.
In plain english (without boring you with technical mumble jumbo) what the system will do is process a request for the specific track or album when you need it, that way Spotify's system is not overloaded with requests when it is not necessary.
Want to give it a go? Click on the release of your choice and then you will see the "Spotify" option in the release toolbar. Select the date range, the track (full release for overall album numbers) and click on filter, depending on the size and amount data it may take a couple of minutes to process it. You can also run reports for "listeners" to get an idea of how many unique people are listening to that specific release or song.
NOTE: Spotify analytics are available 2 days off, for example Today (August 13, 2015) you will only be able to see stats for up to August 11,2015.

2) Amazon Daily Sales Estimates
We have also added Amazon Daily Sales Estimates to the system. They work the same as Beatport and iTunes, you will be able to see them under your "Sales Estimates" tab in the Distribution Menu. Like the other stores keep in mind that stats are one day off, meaning you will see Today what you sold yesterday.
3) Video pre-allocations to improve accounting for Youtube videos
For those that monetize their own channels on Youtube, it was difficult to take advantage of pre-allocations for User Generated Content. Well, we have added a way to easily solve that issue, all you have to do is add the video ID to the pre-allocation of the track you uploaded on Youtube and the system will identify and use that track's pre-allocation as a rule when you run your royalty reports.
Wanna make the process even simpler? You can connect your Youtube account to Label Engine and you can select the video in question straight from the menu or you can use the search tool to find one if it is an older upload, that way you don't have to worry about copying and pasting that ID.
Under the "Accounts" menu, click on the "Releases" tab, find the release/track in question and click "pre-allocations" you will see the "Videos" option on the edit release toolbar.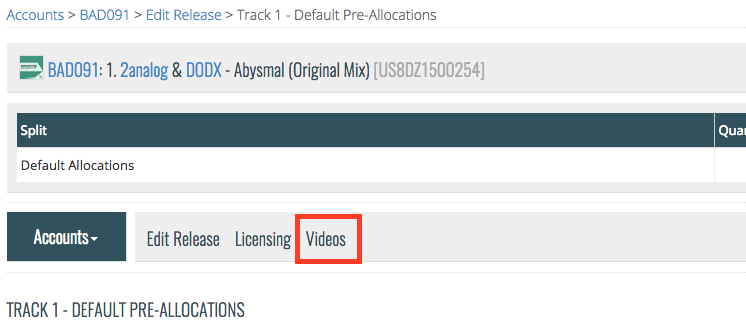 4) New Soundcloud players integrated in the Demos management system
We have updated the Demos system to show the new Soundcloud players instead of the old default one, that way you will be able to better see the track info and who it is from. Stylistically speaking, it will be more pleasing to the eye as well.
You can access the Demo system on the "Demos" menu, if you are not using it yet you should give a try!
5) Demos Management System now also available in the "Promotion Subscription".
We heard you loud and clear!
You guys were asking for the Demos Management System to be included in the Promotion Subscription and we agree it makes sense. If you have a promotion Subscription you can now use the Demos system at no extra cost.
The Demos system is also available at no extra cost to our Premium Distributed labels as well as our Premium Subscribers.
6) iTunes pre-order stats added to the daily sales estimates
You will now also be able to track pre-orders information through the "Sales Estimates" feature. Keep in mind that because pre-orders can be cancelled at any time prior to the release of the album or song, iTunes provide those details with no monetary value so it won't show any totals, also remember these are not final and should only be used for educational purposes and not for accounting purposes.
7) New Blog look and layout
You may have noticed this by now but our Blog went through a new revamping process. New look, feel, layout, features and of course more articles, news, music reviews and even interviews will be added every week so be sure to bookmark it so you can be on top of whats going on in our world.
As always, we would love to hear your feedback and suggestions. We read and consider every single one of them!