Liverpool is a city rich in music culture, not only does it hold the Guinness Book of Records title for being the Capital of Pop but it is also the home to arguably the most recognized band of all time; The Beatles.
More artists with a Liverpool origin have had a number one pop hits than from any other location but even with a healthy music scene, it is not a city known to have strong ties to dance music culture, unlike London, a city credited for the birth of Dubstep and Grime.
Every few years we see an artist that defines conventional tradition, Joe is one of them. He was lucky enough to have a music festival of the stature of "Creamfields" right on his door step, even at a very young age being so close to it gave him a dream to chase.
Joseph Cain, known in the electronic music world as Joe Garston is one of the leaders of a new wave of electronic dance music producers. With a melodically focused sound, he isn't content to call it a day after merely cobbling together a bass, kick, and snare. Contained within every track is a meticulous attention to harmony and melody, where chord progressions and bright leads add to the already-energetic arrangements.
In 2011, his first single "Top Of The World" was released and it instantly became a fan favorite. By 2012 he was already conquering the Beatport charts with "The Promise" and "Forever" peaking at number 2 and number 3 respectively. Since then Joe has put together a string of hit singles year after year, showcasing the consistency and popularity of the British artist.
In late 2015 he decided to take yet another major step in his career, putting on his entrepreneurial hat and launching his own record label "Forever". The imprint is not only home to his own original productions but he is also venturing into the A&R world to help polish the new wave of stars that will follow into his footprints.
We caught up with Joe to discuss his vision for Forever, how he remains true to his sound while others are following trends and how the rise of streaming services has impacted his life as a musician.
LABEL ENGINE: Liverpool is traditionally known for its Pop and Classical history but its cultural relevance within the Dance music scene doesn't seem quiet as apparent as it is in other cities. What is life in Liverpool for a Dance music DJ/Producer like?
JOE GARSTON: I believe Liverpool does have a great Dance music scene and relevance to the UK's contribution to the genre as a whole. With the inception of Cream starting in Liverpool in the 90's being a good example. Just the other day, i saw a Creamfields mega structure for 10,000 people being announced with Axwell & Ingrosso headlining the event taking place on the Liverpool Waterfront.
Liverpool is actually a great place for a DJ/Producer to be, especially now. With so many events taking place every week here and seeing top names on flyers plastered across the city it can be very inspiring. I've noticed over the past few years especially the amount of young producers has risen a lot. Although I've been producing for what seems like a lot longer than the new local guys, i still have trouble making a name for myself here. I'm not sure if it's my production style or if it's my lack of local contacts that makes the difference.
LABEL ENGINE: Your music is very melody-oriented but Electro House is known as a club friendly genre. How do you balance creating music with melody that can also please partygoers?
JOE GARSTON: My music is definitely centered and built around melody and harmony. I try to pack as much as i can within a small melody, emotion, feelings and most importantly, energy. My melodies are often just 8 bars of music. The energy is vital to carry the music for 4 minutes or whatever length the track is.
LABEL ENGINE: Do you still remember which DJ or song inspired you decide to pursue this career?
JOE GARSTON: It's really hard to pin point an exact moment that made me want to pursue this career. I started DJing a lot earlier than i started music production, all for fun of course, a career in DJing never crossed my mind.
I think watching a live video of The Chemical Brothers in 2007 & hearing Daft Punk's Alive 2007 is what started me searching online for production software. I would re-create their live sets and songs in FL Studio and a midi keyboard.
LABEL ENGINE: You released your first single roughly 5 years ago and within a year you were already enjoying chart success. What do you attribute your early success to?
JOE GARSTON: It completely took me by surprise. I think the timing was definitely an attribute. With Beatport really being able to help new artists gain chart success and the height of the Melodic Electro House sound, my music was an easy fit and catered to what a lot of people were listening to and enjoying at the time.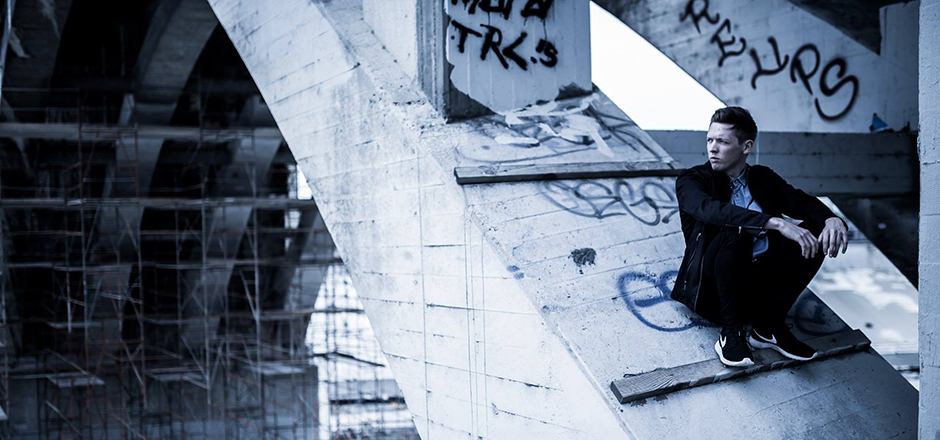 LABEL ENGINE: How has your sound changed since then? With Dance music becoming mainstream, it must be tempting to go "Pop".
JOE GARSTON: I don't think my sound has changed all that much, even when i try. It still has the Joe Garston soul and sound to it somehow. It's just me. I've tried to make pop songs, but they again just turn into a regular JG sounding track. I think my most 'Poppy' song would be my collaboration with vocalist Richard Caddock 'Loud & Clear'.
It's best for me write and create music without thinking of a specific genre in mind when starting out. Musical idea and melody first, genre later.
LABEL ENGINE: Late in 2015 you decided to launch your own record label "Forever", named after one of your 2012 hit singles. You have used the imprint to not only release your own original productions but also develop up and coming talent like Audalanche and Laurent Burg, both artists with bright futures. Was that the plan for "Forever" all along?
JOE GARSTON: The plan was originally to start a label for myself, a place to release my music but with all this music i've been sent over the years, i thought a label would be a great place for not only myself but for some of the talent that have sent me their stuff. Sometimes bad but sometimes really good and in most cases, their tracks would not see an official release. My label could help give them that little extra push in the business.
The label has already signed and released some amazing young talents most of which are their debut releases. It's a really exciting time at Forever with so much more on the horizon.
LABEL ENGINE: Has it been difficult to find a happy middle between being a label manager that is all about business and an artist that is all about art?
JOE GARSTON: It has not been that difficult for me, i'm really enjoying myself. I try to look at being a label manager as art as well as being about business. It helps my process and vision for the label as a whole. I'm developing the label equally as much as an artist as i am, a businessman.
LABEL ENGINE: What's one thing about running a record label that you didn't expect that you now embrace?
JOE GARSTON: I think the ability to relax and have more creative freedom when producing my music. A lot of times i've sent my music to labels and had to worry or change / edit a track to fit with a specific labels needs or desires.
When i'm sent demos for my label, i try not to change the artist's vision with their track or the ideas / inspiration that comes behind it. Keeping the music as close to the artist's original idea/vision is key in what i want to do at Forever.
LABEL ENGINE: You came into the business when MP3 and digital download stores were the primary way to consume music, since then streaming services has become the standard. Do you think the industry shift has made it harder for musicians to make a living from their craft?
JOE GARSTON: It's never been easy, especially for non-touring artists like myself. I think streaming services can have its benefits, if you're a high profile artist or getting the music into the consumer's ears as quickly as possible. But as a young producer when it comes to making a living from streaming, i think it's harder than when fans buy an MP3 or digital download.
LABEL ENGINE: In a perfect world, how would you imagine the music industry being like?
JOE GARSTON: It's such a hard one to answer. A good start would be a music industry where branding and image is not a priority. An industry where any genre of music or any artist, big or small, is given a chance to achieve success. Somewhere where a small artist can make a living from just music sales/streams and not have to tour.
LABEL ENGINE: As music fans we all have that one song that we repeat and repeat and repeat over and over again. Which one is yours?
JOE GARSTON: Hardest question ever but a song that pops into my head is Xtal by Aphex Twin.
LABEL ENGINE: If you didn't become a DJ, what would you have liked to become?
JOE GARSTON: When I was young, I never really knew what i wanted to do or become. If i ask myself that question now, i think I would of like to go into Photography or something to do with Architecture. Fascinated with both.
LABEL ENGINE: What does Joseph Cain, the regular Joe (no pun intended), like to do in his spare days?
JOE GARSTON: Regular Joe enjoys Photography, I'd love to get a shiny expensive camera and start a flikr account but my iPhone and Instagram will do for now. Lately, I also enjoy keeping up with football or should i say soccer? Hanging out with friends, some gaming. That's pretty much it!
LABEL ENGINE: In the world we live in, there are always rivalries that divide the masses. It seems like you are pretty much always forced to pick a "team", lets see where you stand with the following:
a) Team iPhone or Team Android?
JOE GARSTON: Team… iPhone.
b) Dog person or Cat person?
JOE GARSTON: Dog! I'm allergic to cats.
c) Kanye West or Taylor Swift?
JOE GARSTON: I can't say i listen to either but i choose Kanye.
d) Liverpool FC or Everton?
JOE GARSTON: I'm a red, Liverpool FC!
Follow Joe Garston:
https://www.facebook.com/joegarston
https://twitter.com/joegarston
https://soundcloud.com/joegarston
https://www.youtube.com/user/joegarston
https://www.instagram.com/joegarston