Sell your merch on Spotify with Shopify
The new Shopify merch integration is available to all artists on Spotify for Artists. Artists can feature up to three merch items on their artist profile page.
Only artist team admins on Spotify for Artists can access this feature currently.
You can only link one Shopify store per artist. Multi-artist merch stores on Shopify will not be supported by this integration currently.
The integration will be available to artists globally, but will initially only be visible to fans in US, UK, CA, AU and NZ.
Merch listed via the Shopify integration will replace any current merch items on the artist page sourced from third party vendors, such as Merchbar.
This feature is currently free of charge, but in a future state, Spotify will charge a commission fee.
Learn more about how to connect Spotify to Shopify here and how to start a new Shopify store here.
New Audience Engagement tab, more access to data to understand audience growth
A new Engagement tab is launched on the Audience page on Spotify For Artists. The last 28 days of data can be assessed, including artist-level streams, listeners, streams per listener, saves to library and user playlist adds. Users will also be able to filter by territory. This is part of Spotify's ongoing effort to provide artists with direct access to the data they need to analyze their audience growth, discover how well their music is resonating with their fans, and track the effectiveness of their marketing efforts.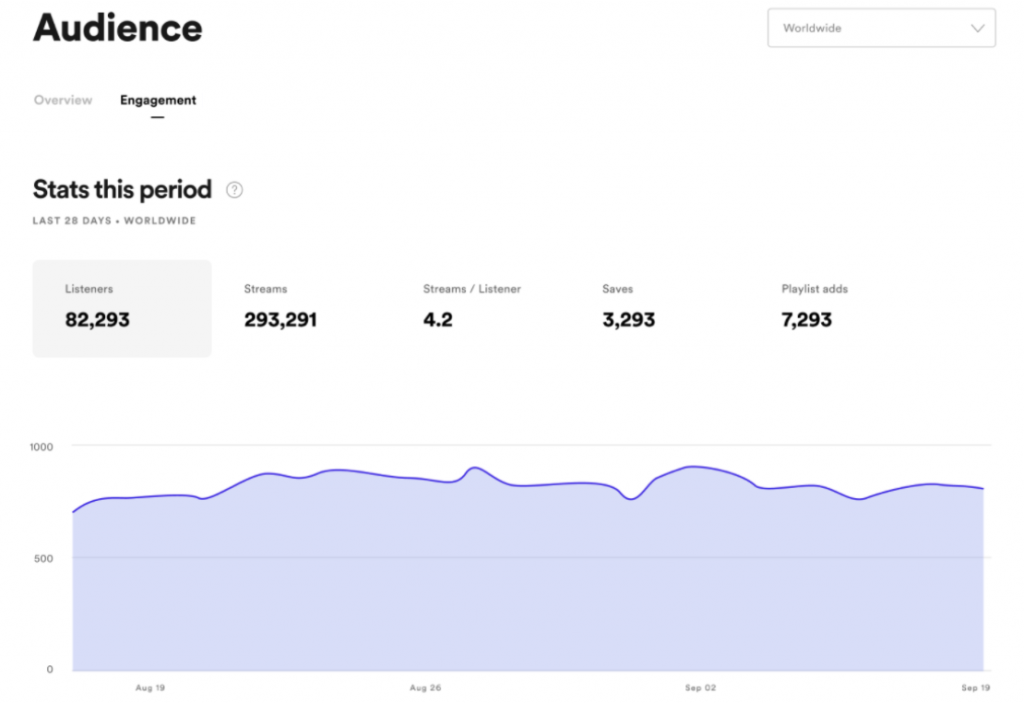 Spotify will be closed next week from Monday, November 1st to Friday, November 5th, in observance of "Wellness Week"
Spotify is giving their team an extra week off to recharge. During this week, releases will go live as scheduled, however only key playlists will be updated. Normal programming will resume on Monday, November 8.
Please don't hesitate to reach out to us at support@label-engine.com if you have any questions or concerns!